Ken and I went to a Tiki-themed event at a downtown bar last night. Picture this style of decor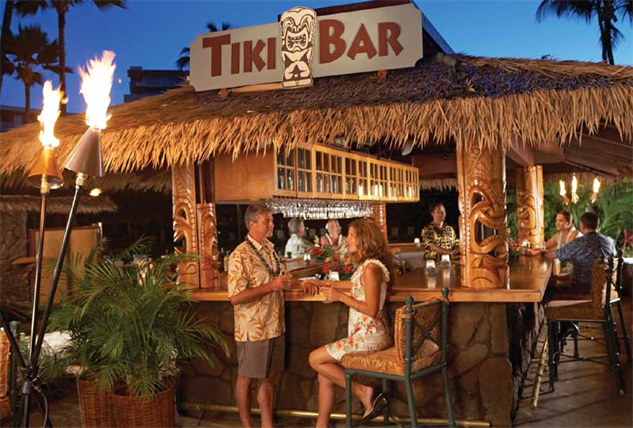 but much more colourful and crowded, and the torches were "lit" with yellow and orange tissue paper rather than actual fire. #SafetyFirst.
There was a live band and a dance floor; a raffle; and a contest for the loudest shirt and best luau dress. Hawaiian-print-clad people sipped drinks decorated with slices of pineapple and paper umbrellas. However, I was most interested in the scheduled burlesque act. I have never seen one before.
Long before the dancer was scheduled to appear, half of a 3-foot-wide coconut shell was set on a stand and partially filled with sudsy water. Intriguing. An appropriately-scaled foam slice of lime was wedged onto the edge of the shell.
As the last of the day's light faded from the sky, a gorgeous, statuesque blond woman wearing a gold sequinned outfit strutted onto the stage. The band launched into an appropriate musical number, and it wasn't long before pieces of the lady's costume were being gracefully tossed into the laps of men seated near the stage.
When she was down to a gold thong and sequinned pasties, she kicked off her shoes and climbed into the coconut, where she spun around on her butt, and kicked her feet in the air. Then she grabbed the lime-slice sponge, ripped it in half, did some pretty provocative dripping-water-over-herself moves. That was the grand finale.
I was amazed, a bit shocked, but definitely entertained. It's not often that I see another woman's butt or bosom that bare, and never have I witnessed that much deliberate jiggling. Since she had a bath in the process, I guess you could call it good, clean fun.
We caught a subway train home around 1 am. Everyone was sleepy. Here's a photo I took of a girl sleeping on the train next to a sketch of a man sleeping on the train. Click on the photo see it in all of its whimsically juxtaposed glory.
So. Girl taking a bath in a giant coconut. I can scratch that one off my bucket list.